A recent birthday
I was lucky enough to receive a LEE landscape polariser for my birthday and immediately had to try it out.
LEE filters have a local landscape scene featuring on some of their packaging. Cockshaw Hill, in Gribdale near Great Ayton in the North Yorkshire Moors. In the summer the heather is in bloom, wild bilberries (blueberries) are in fruit and the sun sets lazily over the valley off to the left of the local iconic landmark Roseberry Topping. All these factors combine for a natural composition.
The view has always inspired me, over the years I have had several attempts at doing this location justice but this is the first year I have actually appreciated the results. Myself and fellow local landscape photographer Stephen Tierney took a walk up to catch the sunset.
The Shot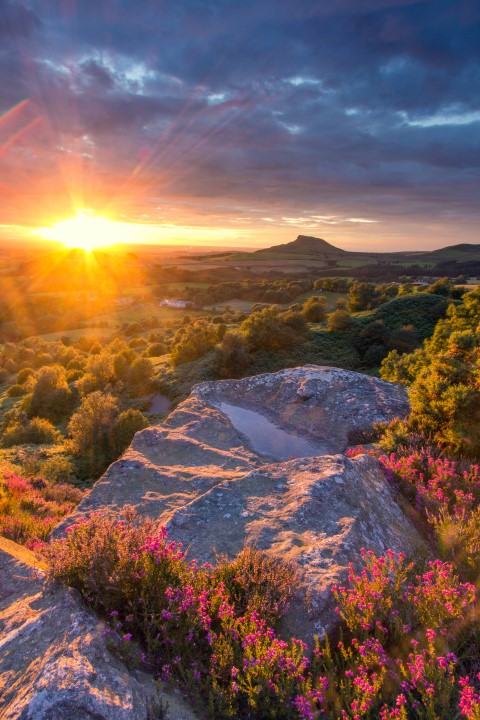 The Composition
As above, this scene has such a natural composition it required little thought. The heather frames the lower half of the scene with strong foreground interest with the old quarry cliff wall to the right completing the framing. The summer sun sets in the perfect location to light up all of the scene.
The Technique
I used a combination of my new LEE landscape Polariser to bring out contrast in the foliage and the sky and to enhance the reflection on the quarry pond and a LEE 0.9 ND Hard Grad to balance the harsh light in the sky. Shooting directly in to the sun meant lens flare was an issue here, I used a combination of layer blending and the clone/healing tools in Photoshop.
The Kit
The Location
| Car park name | Gribdale Gate |
| --- | --- |
| Address | Dikes Lane Great Ayton North Yorkshire |
| Nearest Postcode | YO21 2RU (for sat-nav purposes) |
Park at Gribdale Gate on Dikes lane and then head uphill through the gate in to the forest, about halfway up the hill on your right is a bench with a path leading left and right, take the left track and follow it round. (About ten minutes walk from the carpark albeit up a steep hill!)
The curvy scar of the cliff in the centre of the map below is the edge of the quarry featured in the photo. In the surrounding area there are other lovely compositions over this scene.
I'm hoping there's still time to make another visit this summer and try some different compositions of this great scene!